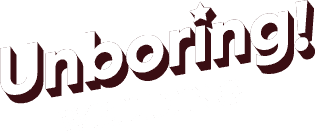 Wedding Ceremonies: The
Unboring!

Way
Learn to Officiate the Unboring Way
Getting Married in New Brunswick?

FREE MASTERCLASS: LIVE EVERY MONDAY!
How to create and deliver a wedding ceremony : THE EXACT 5-STEP PROCESS
FIRST TIME? LEARN TO AVOID 5 COMMON MISTAKES, MASTER YOUR SCRIPT AND DELIVERY, AND GET SET TO BE THE BEST. REGISTER NOW!
ARE YOU AN OFFICIANT OR CELEBRANT WHO WANTS TO CREATE AND DELIVER A TROUBLE-FREE WEDDING CEREMONY?
From my full online course to 1-on-1 coaching to the #1 bestselling book to how-to blogs and videos, here's where officiants and celebrants learn all my tips and tricks for an unboring, unforgettable wedding!
The wedding was amazing. Everyone loved the ceremony, and the bride and groom were so happy with it. It was also their first time hearing the script, so that really added to their experience. I received tons of compliments, and even the DJ said I knocked it out of the park. The entire audience (along with the bride and groom) were laughing and crying throughout the entire ceremony, and everyone had a blast. Thanks so much for your help. Your coaching really made all the difference!
– Howard Ko
It was a home run! I can say for sure that without finding you, it would have been a mediocre and fumbling affair, but with your quick-strike package, we were looking like pros and couldn't have felt more satisfied after the ceremony. You really gave us a gift with the time you spent and the work you've done making this system available to all the amateur and pro officiants out there. Thank you, Mark!
– Louis Haywood
Could not have gone better! Dozens and dozens of people told me it was amazing – best wedding they have ever been to. I had grown men crying. Thank you so much! I couldn't have done it nearly as well without you.
– Mary Walker
Ceremony went great! Got a bunch of laughs from the bride and groom and the audience. I got so many compliments afterward from their family and friends. Everyone said it was really engaging and loved the story. The groom recognized a few of the things he sent me but was blown away with how the whole thing came together. One friend did ask if I'm for hire for their wedding this summer! I'm very grateful for all your help! It took the stress out of it and made the whole process really fun.
– Inna Mitev
Mark, it could not have gone any better! I had people laughing in stitches, and others with tears falling from their faces. The content was on point and I nailed the delivery! People were coming up to me all night raving about the ceremony. I can't thank you enough, you truly are a wizard and a master of your craft! Thank you thank you thank you!
– Paul Shapiro
What a night. I can't thank you enough for everything I've learned about doing weddings. It's given me the confidence to shrug off the little snags. Most importantly, I was able to keep reminding the couple that this was all about them, and not to worry, I got this. Thank you so much for being a great wedding mentor!
– Joy Silva
Get the book!
All the tools you need to write a fun, moving ceremony and deliver one of the best weddings ever – with total confidence.
Learn to officiate with ease and style
Even if you've officiated five hundred wedding ceremonies, the very first time a same-sex couple asks you to officiate their wedding ceremony, it can feel like your first time all over again. I hear it from experienced officiants all the time: "What's different about a same-sex couple's wedding ceremony? What do I need to know? I'm so worried I'll mess this up or inadvertently offend my couple. Help!" The good news is, no one will be more understanding than your same-sex couple. Chances are,...
The right music is crucial for setting the tone in your wedding ceremony. There are lots of feels in a wedding ceremony, and the right songs complement the emotions of the moment. The wrong songs? Well… the opposite. If you don't believe me, just go watch those YouTube videos where someone swapped out John Williams' score when Darth Vader enters. Or the other one that completely removed the music for the final Star Wars medal-awards scene. Music really does make all the difference. It can be...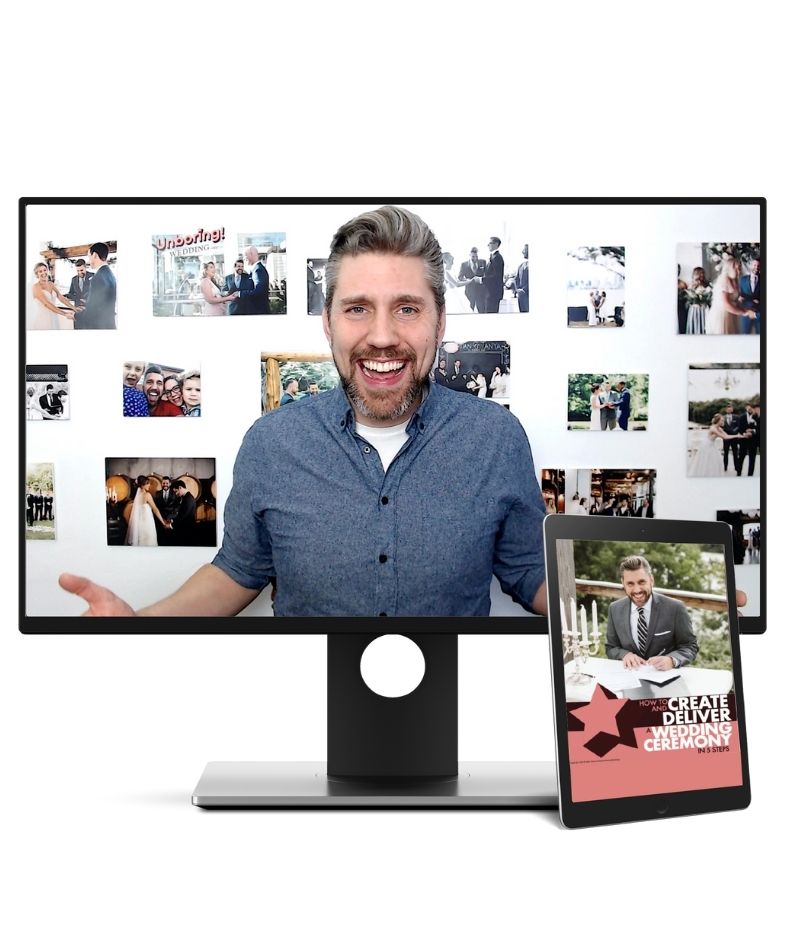 ELIMINATE THE WORRY AND GUESSWORK
Live and in-person every Monday, I host a free masterclass that will teach you my exact 5-step wedding ceremony process!
Enter your name and best email address below. That will register you for our free live masterclass, and I'll send your instant guide right away so you can start building your professional 10-part classic ceremony within minutes. Then with a click this Monday, you can join me live, learn my process, and ask me questions. I can't wait to meet you!